About Us
Nick Mendola & Marty Mendola have continuously implemented a philosophy and business approach that is 100 % client centered. We offer the prompt, personal, confidential, uncomplicated, informative, professional service that you deserve! Our unique approach is a culmination of working closely with and listening to our clients over our 75+ years combined experience in the local real estate market. We believe every client representation is an opportunity to improve our business practice, thereby ensuring a distinctive level of personalized service not found elsewhere. The vast majority of our business comes from repeat, referral and word of mouth recommendations of clients. This is the best indication that our clients appreciate our abilities and overall commitment to assisting them achieve their individual real estate goals. It is an honor to re-represent so many clients and be continuously referred to their friends and family members. We sincerely value the friendships we have made while working so closely with each and every one of our clients. We remain committed to leveraging our time tested skills and resources so that our clients can make solid real estate investment decisions with confidence and peace of mind!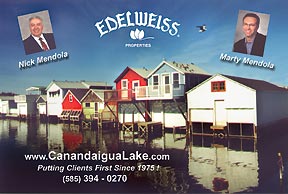 Benefit from very experienced, reputable real estate brokers at no extra cost!
Over the past 40 Years Edelweiss Properties has successfully Sold the majority of Canandaigua Lake properties and also many homes in the surrounding area because consistently we are:
Prompt
We are available 7 days a week.

When we cannot take your call we will rapidly return your call.

We return EACH & EVERY phone call by the end of the day.

Personal

When you call our office you will be speaking with the owners of the company, NOT a staff that cannot immediately answer your questions and serve your needs. We do not have any company polices that can hinder providing the absolute best service and outcomes for our clients.

Edelweiss has consciously made the decision to remain a small office. This is advantageous to our clients since we can react rapidly in serving you while we ensure 100% client satisfaction. Your file is not passed around and you are not forced to bounce between phone extensions.

We only ask for contact information and a description of your objectives so that we can best serve you. Knowing who you are, what your wants/needs are and how to immediately contact you enable us to be of best service to you. Any feedback you provide us with allows us to better serve you and increases our ability to locate and secure the most suitable property for you. We promise not to "hound" you. That is not our style.

Informative

We can assist you with any properties in the Greater Rochester and Canandaigua areas. As long-time residents of both areas, we are very knowledgeable with our local communities and have sold many properties in the surrounding areas since 1967. Please contact us anytime for more information on any property you may see on this web site or in person. Regardless of the area in which you buy or sell, we remain committed to placing our unparalleled personal, professional, proven real estate expertise to work for you.

On our Web Site Homepage, we make available ALL properties listed through the local Multiple Listings System (MLS). Our goal is to help educate our clients so they can make the right decisions in purchasing the best home. Many web sites only list a firm's listings or the properties from firms with a reciprocal agreement. These are not complete listings of properties currently available. We do not attempt to sell only our listings, but any property that best fits your wants and needs. Therefore, we can assist you with any property you find through through our web site.

We leave past sold information on our web site. Past client surveys have indicated that sold information is helpful in educating customers as to the various type of properties available in our area, as well as the range in prices, amenities, features and values available. Many customers refer to specific properties that have sold as the type of property that appeals to them. This feedback is invaluable in our effort to locate the most suitable property for you based on your wants and needs. Please note that posted prices reflect list prices. Call us if you would like actual sale price information.

Our high visibility Main Street (one story) prime office location is convenient for picking up information. We showcase many properties in large color photographs on our office walls for your review.

CanandaiguaLake.com - the most recognized name for all your Canandaigua Lake real estate and area information needs. Easy to find, Easy to remember, Informative & updated every 2 hours!
Uncomplicated
We do not spend time and valuable resources telling you how many MILLIONS and MILLIONS of dollars of real estate we sell each year and awards we have won and that we are number one. (this information is available to you in our office & The Greater Rochester Association of REALTORS.) Instead we focus our attention and capabilities on who really is #1 and that is YOU... the Edelweiss Client.

We do not refer you to select real estate related services by companies affiliated with us where we make money. Rather, in looking out for your best interest, we are happy to refer you to any reputable established business or professionals that can best serve you, not firms where we make money by sending you to them. This way you have the most choices at a cost favorable and acceptable to you. Our only reward is that they provide you with the best and most professional service.

Confidential
| | |
| --- | --- |
| | All information, conversations with our clients is held in the strictest confidence. We are not a large firm with a lot of "talking around the water cooler." Your business remains only your business. |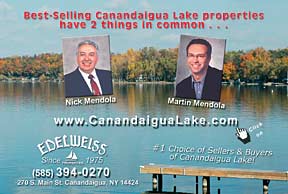 Experienced
We understand that the decisions you are making are extremely important. We want you to be comfortable throughout the whole process and we draw upon over 63 years combined local experience and a wealth of time-tested resources to work for you. As you seek the most experienced surgeon medically, you need to seek the most experienced professional REALTOR financially.

We are a small firm and cannot afford to make mistakes. Therefore we pay close attention to details so that you can have the peace of mind knowing that you are making solid real estate investment decisions with all the pertinent facts.

We have been called the "REALTORS' REALTOR." In recent years we have been honored to be asked by local real estate brokers to represent them in the sale or purchase of their homes. We understand this is normally unheard of and we are grateful to our colleagues in the industry who have entrusted us to represent them!

We are happy to provide referrals of any past clients and encourage you to research our past distinguished record of success and credentials. Each and every one of our testimonials is unsolicited. Please find a few of these on our web site and we are happy to share many more with you at our office.

We utilize our solid business backgrounds and experiences in Accounting and Business Administration (MBA - business & marketing) to best represent our clients in making sound financial decisions.

Flexible & Responsive

We strive to maintain an extremely responsive and very flexible approach. Again, you are dealing with the owners of the company. We create company policy and we can customize it any time if necessary if it is in your interest!
"No one will work Harder and more Professionally for YOU!"
---
Mission

To consistently exceed our clients' expectations for assisting them to achieve their real estate goals in a comfortable, convenient, efficient and thorough manner by leveraging our experience, skills and in-depth market knowledge.
Code of Ethics
Philosophy

"We look to build real estate relationships!"
No pressure. Just consistent hard work, availability, experience, integrity and overwhelming knowledge. Real estate involves some of the most important decisions in a person's life… why rely on just anyone?

Affiliations

Edelweiss Properties is a Proud Member of:

National Association of REALTORS
New York State Association of REALTORS
Greater Rochester Association of REALTORS
Canandaigua Chamber of Commerce
Multiple Listing Service (MLS)
The Landmark Society of Western New York
Canandaigua Lake Watershed Alliance
Eastshore Association of Canandaigua Lake, Inc.
Historic Cottage City Cove Association
Ontario County Historical Society
Granger Homestead Society
Squaw Island Preservation Society
Equal Housing Opportunity

Copyright
We look forward to the opportunity to serve you!